by Simon Nelson
President | Disabled Police Association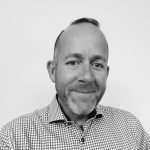 Welcome to the third of my bi-monthly one page blogs this year and thank you for the support you offer, even if that is simply a desire to know more. The timing for this could not be better as we are now into Disability History Month which runs between the 18th November and 18th December.
This is the time for the pride enjoyed by other groups during their own history months, when they celebrate their identity, difference, rich heritage, and some of the freedoms they have finally secured. Disability should be celebrated and championed with equal fanfare, as those I know who live with those conditions tend to be incredible problem-solvers and resilient achievers in so many ways due to their coping routines and 'work arounds'. Our routines typically include tough days (over and above someone's typical) and better days, bouncing back on each occasion to crack on with what needs to be done. This demonstrates why, if a disabled colleague requests support from you, they really need it! We also need to recognise why the term 'disabled' is not an easy one to shout out with enthusiasm as it focuses on what we are unable to do rather than all that we are able to do. Terms such as 'diversability' and 'differentability' truly reflect what those with disabilities or live with neurodiversity have to offer our society and our service. Unfortunately, the Equality Act, which replaced the Disability Discrimination Act, will always bring us back to that familiar term.
It is incredible that it is only 25 years since the Disability Discrimination Act was enacted – let's pause and reflect on that – only 25 years since it became illegal to discriminate based upon an individual's long-term, life affecting difference. Unfortunately I believe there are many occasions when 'disability' disproportionately evokes stereotypes of the ill or old; and for those of working age, work-avoidance or absence – this influences how policies are written; support offered; and opportunities for inclusion and progression provided. Only the other day I heard a news journalist refer to a disabled person living with a 'disease' when they were simply endeavouring to have the best possible life, living with a condition that was part of who they were since birth. 'Suffers with' is another regular association – they rarely do, but they often do suffer from intolerance and exclusion. Imperfections are not inadequacies – 'normal' is nonsense and on that note the film industry needs to stop associating non-typical physical features as a source of fear.
The theme for Disability History Month this year is Access, which is likely to prompt thoughts of wheelchairs, an image typically associated with disability and although around half of disabled persons have mobility challenges, the access issues are far wider in terms of opportunity. I believe the police service has reached one of the most important points in its history when we need to consider how much we value disability within the service, particularly disabled officers. Only around 17% of disabled persons are born with their disability, so with a new normal retirement age of 60 we can expect an increase in the total number of those who experience a life-changing illness or injury. Our service can chose to 'exit' those individuals along with the abilities and experience they have amassed, or support them as representatives of a community we serve. Other protected groups are campaigning for better advancement, representation, and equality – we desperately strive for retention. Of course the service needs some fully-operational number of officers to 'chase and restrain' or fulfil other mobilisation commitments, but how many roles genuinely, routinely and typically require that? We also need to understand that disabled candidates should be encouraged to apply to join, to increase difference within the service, if they meet the entry requirements which includes the fitness test.
History is filled with disabled achievers (oxymoron?), including Albert Einstein whose condition prevented him from speaking until he was 3 years old; and Horatio Nelson – my shorter and more famous namesake! We sometimes forget that we continue to write history, so let's fill it with fairness and inclusion – we can support and unlock diversability talent as well as all of the discretionary effort that comes with that. ∎