The Disabled Police Association (DPA) held its inaugural annual conference on 5th June 2019, an international first in policing.
Formed in July 2012, the Association welcomed members of the police family from across the country who live with or care for loved ones with disabilities.
The event, with the theme 'Enable rather than Disable', was held at The Fielder Centre in Hatfield and sponsored by Police Mutual and Police Care UK.
It was also supported by the National Police Chiefs Council (NPCC), Hertfordshire Constabulary Chief Constable Charlie Hall, and Hertfordshire Police and Crime Commissioner David Lloyd.
DPA president Dr Robert Gurney said: "The aim of the event was to bring together those who work within policing and live with disabilities to provide support and advice, share good practice in relation to supporting officers and staff with disabilities, and explore some of the barriers that they face at work".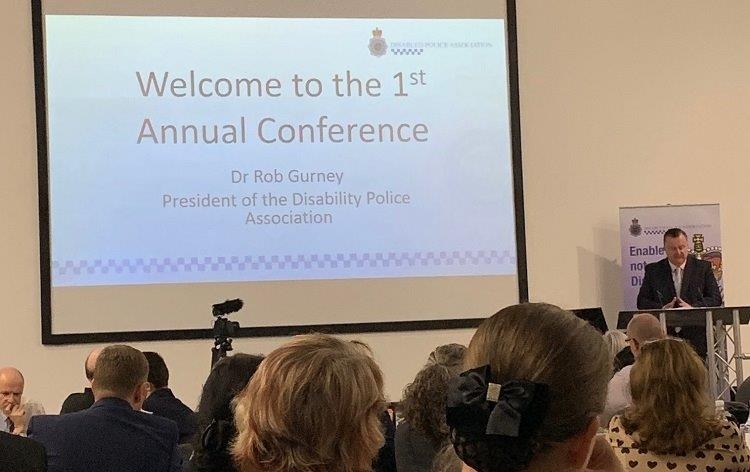 The DPA is a national body that represents disability support networks within police forces across the UK. Its main aim is to promote equality of opportunity for people with disabilities or carers who work or volunteer within the wider policing family.
The event's guest speakers were Permanent Secretary at the Home Office Sir Philip Rutnam, who spoke about his role as the Civil Service Disability Champion, and CEO of Police Care UK Gill Scott-Moore, who spoke to guests about the work of the charity in supporting ill and injured people.
There were also contributions from the NPCC Lead for Disability, Deputy Chief Constable Janette McCormick QPM; Hertfordshire Constabulary Assistant Chief Constable Nathan Briant; DPA Vice-President Simon Nelson from Sussex Police; and Vice-President of the Police Superintendents' Association Ian Wylie.
Dr Gurney said: "The conference provided some really positive learning outcomes and showed the valuable contribution that those with disabilities make to policing across the nation. We are delighted that so many people with disabilities were able to attend and could highlight their concerns and the challenges that they face. The conference has provided an incredibly valuable insight into disability in today's police service". ∎
---
Police Care UK is a charity that provides practical, emotional and financial support, and confidential and impartial advice for serving and former police officers, staff and volunteers who suffer harm as a result of their policing role
Police Mutual offers financial services to serving or retired police officers, staff and their families
For more information get in touch with us by selecting the Media & Comms option on the Contact page